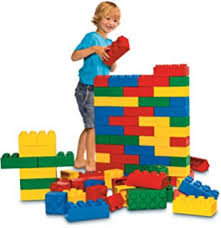 Jumbo Blocks (100 Pieces) [NEW ITEM]
These durable
Jumbo Blocks
interlocking design lets you create unlimited designs and possibilities. Add these to your order for an instant hit with children and adults. Build, stack, and tear down for hours of fun!
Our 100 piece
Jumbo Blocks
are safe for indoor and outdoor play.
Jump N Bounce is Licensed, Insured, Park Approved, and PTA Approved.
Available for rental in Orange County, CA & surrounding areas.